NEW Tennis long-format tournament ! Last update, 2021-09-17 14:30
You will find here all the infos regarding the new tournament that will take place from week 23 to week 35 at ATL, for Stegen players.
To get registered, please drop an email to mathieu@isomail.org, or a text/Whatsapp/Signal message to +46 737 59 88 17 before SUNDAY 06 JUNE 2021 23:59
1- Concept
Open only for Stegen players, even the inactive ones. You basically need a rating, to start in a wave that fits you.
The idea is to create a tournament with a format inspired by the french/swiss system, to avoid uneven matches. The lower ranked players start the first, and then every round, a new "wave" of better players is joining the draw. A round could last 1 to 3 weeks (see the calendar section).
Players self organize their matches. Which means that you receive the contact info of your opponent, and then have 1 week (or more) to play your match. You can play inside or outside. You book 1 hour and play your match, according to the format described in the section below, and report it. In case you and your opponent disagree about the surface (indoor hard or outdoor clay), priority is given to the lower ranked player ;-)
Please make sure to contact your opponent as soon as you know his/her identity, it could take time to agree on a spot and to find an available court. Please double check the weather forecast as well ! In case you don't have any answer from your opponent, please contact me !
2- Fees
After some discussion, we agreed that there won't be any fee. You pay and share with your opponent the price of the court booking.
NO FEE doesn't mean that it's ok to withdraw at the last minute ! Please think about the draw makers ;-)
3- Calendar
Hard to predict how many players will register. Let's aim for 40. Fingers crossed, the more we are, the more interesting it is ;-)
It means that the first round will involve 16 players (8 matches), and 8 players will integrate the draw every round.
We will have 4 waves of players entering the draw : 16 players the 1st round, 8 more the 2nd round, 8 more the 3rd round and the final 8 the last round. And then 3 more rounds for the QF, SF and F.
Ranking matches are possible but not mandatory, as long as players want to play more. Which means that we would have 5 draws in total : the main draw of 7 rounds (the 4 waves + QF + SF + F) + 4 "left" draws (consolation/defeated draws open for players who lost their first round), one for each wave.
Since Midsommar is coming, and then July, the rounds will last 1 to 3 weeks. To make sure that players can organize their matches, we extended the round 2 to 5 (Midsommar, July, beginning of august).
Here is the planned calendar. It could change in case more than 40 players are joining.
v23 : 1st round
v24-26 : 2nd round + ranking matches ("left" draw)
v27-29 : 3rd round + ranking matches ("left" draws)
v30-31 : 4th round + ranking matches ("left" draws)
v32-33 : 5th round (quaterfinals) + ranking matches ("left" draws)
v34 : 6th round (semifinals) + ranking matches ("left" draws)
v35 : 7th round (final) + ranking matches ("left" draws)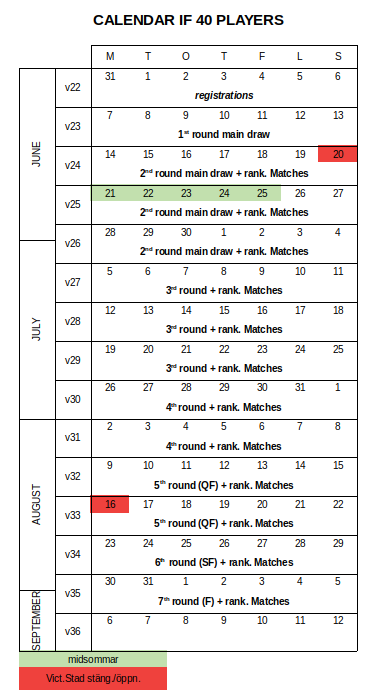 4- Match format
Players self organize their match and book (and share the price) 1 hour. The match ends at the end of the hour. Please bring your own balls. In case you disagree on the balls to choose, priority is given (again) to the lower ranked player ;-))
We play NO-AD (deciding point at 40-40, receiver chooses the side) to avoid neverending games
We count games until the end of the match
The big question is : when do we stop the match to make sure that we have a winner at the end of the hour, instead of a tie or a fight ? Here is the best way to proceed :
Please make sure with your opponent before the match starts that you are both on the same page, to avoid discussions in the end
The match stops the moment a game ends after XX:55 (5 minutes before the end of the booked time).
At that moment, and if it's a tie, then you use the final minutes to play a tie-break. First to 5. Toss the server at 4-4 to decide who will serve for the golden point !
If it's unclear, please contact me and I'll try to reexplain it in a better way :)
5- Main draw + subdraws
Here is the main draw that will be updated as often as possible. We plan to have 7 rounds and 4 "waves" of players entering the draw. "Left-side" draw, for players who lost their first round will exist as well, to have as many ranking matches, or subdraws, as you want (not mandatory), and to offer each player at least 2 matches.
It will be complicated for players to register without knowing exactly when they will enter the draw. To have an estimation, I created the average rankings of all the players (average of their points in 2021). And then I split it in 4. It gives an idea of when players will enter the draw.
These rankings will be updated one more time on MONDAY 07 JUNE, and then kept for the whole tournament.
Let's say that your average rating in 2021 is around 850pts, then you know that you have a high probability to enter the draw in the 2nd wave => Which means that your 1st match would be during v24-26.
The final rankings and draw will be published on MONDAY 07 JUNE 12:00